First run¶
By default the ResIOT IOT platform is installed on port 8088. So, depending on where your platform is hosted you will need to visit the
http://PLATFORM_IP_ADDRESS:8088

Initial setup¶
The very first time you access your platform website, a very basic page will ask you for the following data:
Your email address: this is also going to be the username of your admin account
Password: a valid password
LoRa Server Band: the set of LoRa Standard frequencies you want your server to use.
Company Name: the name of your main Organization.
You will be also asked to enter other, non required, data.
Once done, press the button "Create account" button.
Remember, after successfully configuring the IOT platform for the first time you will need to restart the machine in order for your changes to be applied.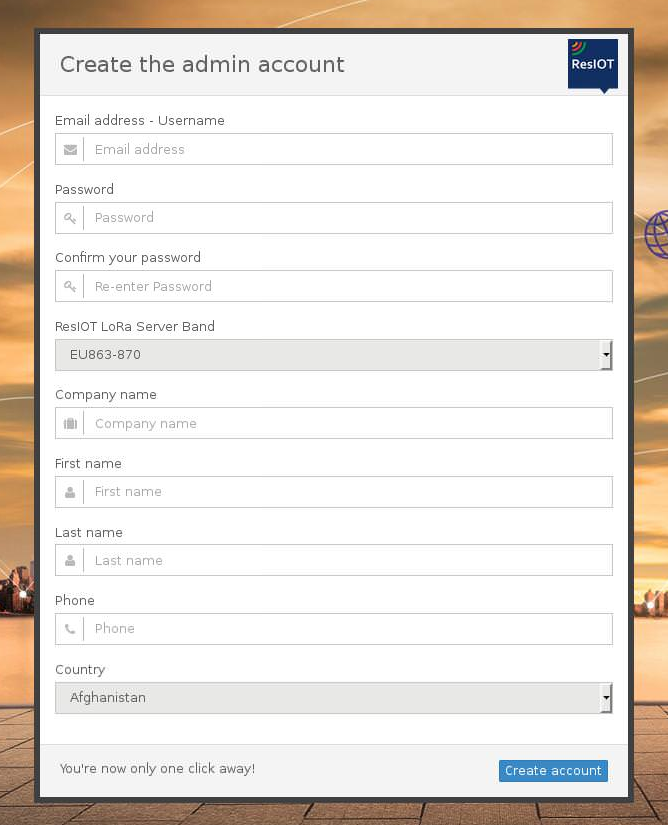 Activate a license¶
You now need to activate a license for your software.
You can start by registering and get a free license key to test the ResIOT IOT platform with a few nodes for free.