FTP Server Control¶
What does it do¶
The "FTP Server" page is used to store the credentials of one or more external FTP servers in which files can be saved.
Where is it¶
The "FTP Server" page can be found under the "Settings" section of the menu on the left, as shown in the images below.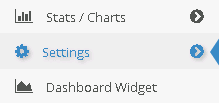 Explanation fields of the page¶
Name¶
The name of your FTP server, or at least the name with which you want to identify it.

Enabled¶
This field allows you to enable or disable an FTP server. A disabled server, even if selected, will not allow saving any file within it.

FTP Address¶
In this field you need to enter the address of your FTP server. The format of a standard address consists of the IP address of the server followed by the access port (usually 24), or you can use the simple URL of the server (IP example: 13.125.64.145:24; URL example: www.site.com)

Username & Password¶
Username and Password are the credentials needed to access those password-protected FTP servers.

Directory¶
This field decides in which folder the file will be saved when it is loaded. If this field is left blank or contains only one "/" then the file will be saved in the home directory. Pay attention that if the path to a nonexistent folder is written instead, the saving will go into error.

Test Connection¶
Once the remaining fields are filled, a connection test can be performed. Pressing the button shown in the image below will start an attempt to connect to your FTP server using the address and the credentials written in the fields described above.

If the operation is successful then a small green notification will appear in the upper right corner.

Otherwise a red window will appear containing the description of the error.

Where is it used¶
The main use for this function occurs during the backup operation, where the user is allowed to save a copy of the backup in his FTP server.

For more information visit the "Backup Management" page.